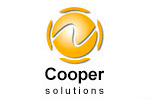 Established 10 years ago, Cooper Solutions provides a range of dynamic web-based solutions for over 1,000 franchised dealers throughout the UK. Our clients range from owner driver dealers through privately owned groups to the larger plc; whatever the size of dealer or group, our products are of benefit.
We aim to deliver real value and an excellent return on investment by providing targeted solutions to specific business issues, helping companies develop the professionalism and efficiency of their staff, enhance their customer service, increase their management control and improve their profitability.
Our products are developed from many years' experience in the motor industry with manufacturers and dealers, in the UK and overseas. We offer technology-based systems designed for use by non-technological people, and we offer solutions that work with and enhance existing management systems, such as ADP Kerridge.
FullCover and FullForecast are our two most commonly-used products, offering fleet management with daily rate insurance cover and financial management solutions respectively. Our loyalty rates are over 95%, we grow by over 25% annually yet are determined to maintain close working relationships with all our clients.
If you would like to find out more about how Cooper Solutions could help your business, please either visit our web site at www.coopersolutions.co.uk or simply call us on (+44) 01926 855 055, we'd be delighted to speak to you.